The Work of Leaders
In a field crowded with information, is there anything new under the sun when it comes to leadership?
Perhaps!  Particularly in addressing the thorny question: "How can I become a better leader?"
Book shelves are stuffed with chronicles of great leaders and theories about leadership.  Many of them are wonderful resources.  And few synthesize leadership into a basic set of best practices that can be easily replicated. None (that I am aware of) personalize those best practices to the leader's behavioral style preferences.
Enter Inscape Publishing's Work of Leaders® model.
This is a tool so simple, yet elegant and powerful, I wish that I had it when I was a CEO. How much easier that job would have been!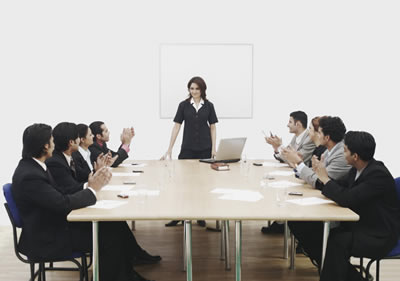 What is your leadership style?
Using a 3-step framework, Work of Leaders® encourages leaders to understand their behaviors and how those preferences impact their effectiveness.  A part of the Everything DiSC® family, Work of Leaders® defines leadership as a "one to many" relationship; distinct from the one-to-one relationship of management.
The Work of Leaders® is framed in 3 basic categories or "leadership jobs":  Vision, Alignment and Execution.  Each of these has a set of identified best behavioral practices that any leader needs to engage in order to create success:
Vision:  includes crafting a vision of new possibilites for the future through the best practices of exploration, boldness and testing assumptions.
Alignment:  leaders build alignment by communicating with clarity, engaging in dialogue and providing inspiration, so everyone is moving in the same direction.
Execution: in this phase leaders need to champion execution through momentum, structure and feedback.
Every leader gravitates naturally toward some of the best practices and is challenged by others.  A tool for leaders at all levels in a company, the data rich Work of Leaders® report not only identifies the continua of best practices in each phase; it also helps the individual leader understand her/his preferences by imbedding the DiSC® style preference inventory.  This provides valuable information for capacity building, teamwork and reflective discussion.  The result is targeted, effective leadership throughout the organization.
Whether your leadership style is commanding, pioneering and energizing; or you tend more towards deliberate, humble and inclusive, Work of Leaders® is designed to help you maximize your strengths and become more effective in all areas of leadership.
Click here to download an E-Brochure: WorkOfLeaders
Interested in webinar training on the Work of Leaders?
Want to see a sample report?
Leave feedback and we will contact you!
Entry filed under: Uncategorized. Tags: AK A Coach and Company, Annie Kirschenmann, Behavior, business, challenge, leadership, management, strategy, style.